| | | |
| --- | --- | --- |
| last updated : 2011/01/01 | | |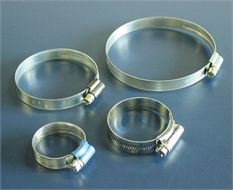 Code
Description
Ind. price
Ship. weight
Ship. vol.
EHDWBACLH015

BAND CLIP, for hose pipe, high torque, 15-20mm
CHF 1,80
0,02kg
0,023936L
EHDWBACLH020

BAND CLIP, for hose pipe, high torque, 20-32mm
CHF 1,20
0,022kg
0,03L
EHDWBACLH025

BAND CLIP, for hose pipe, high torque, 25-40mm
CHF 1,70
0,024kg
0,036464L
EHDWBACLH050

BAND CLIP, for hose pipe, high torque, 50-70mm
CHF 1,70
0,04kg
0,049L
EHDWBACLH077

BAND CLIP, for hose pipe, high torque, 77-95mm
CHF 1,80
0,05kg
0,176L
EHDWBACLH080

BAND CLIP, for hose pipe, high torque, 80-100mm
CHF 1,40
0,04kg
0,1932L
EHDWBACLH087

BAND CLIP, for hose pipe, high torque, 87-112mm
CHF 4,00
0,04kg
0,23L
General information
Band clips for water pipes fittings.
Many qualities are available. Check resistance to over tightening before purchasing.
For 3" and above, stronger band clips may be used. Type with plain steel band, tightening with bolt and nut system.
Steel band to be rounded on the edges to avoid cutting the hose.
Specifications
Band clip of high tensile galvanised steel.
Band clip of high tensile stainless steel.